Today: Run, shower, job interview, teach 3 piano lessons, call-back auditions for NW Children's Theatre's "Peter Pan," meet nice guy for dinner (2nd date). Tomorrow: Early morning breakfast with college friend in town, teach 2 hours of music camp, lunch with professional mentor to discuss upcoming job interview, running club 5k and social time. Deep breath! Oregon 2012...
I'm getting there
One Day BY PATRICIA JABBEH WESLEY Love Song for the Newly Divorced One day, you will awake from your covering and that heart of yours will be totally mended, and there will be no more burning within. The owl, calling in the setting of the sun and the deer path, all erased. And there will be no more need for love or lovers or fears of losing lovers and there will be no more burning...
How I am, tonight
I'm feeling my heart pulled in three directions, and each way looks murky and uncertain anyways.  I'm feeling so lonely, so drained, so untouched in the evenings. I'm feeling jealous, so jealous of the tiny comments I hear my kids make when they return to my home. Comments about new kites, or being buried in the sand, or birthday parties for imaginary puppies. Why didn't...
1 tag
You mean I have to show up every day? With a plan?
So, I have left the realm of the substitute teacher and entered the world of "It's my classroom, now what do I do with them every day?"  Of course, I'm thrilled to be the temporary teacher for this big high school choral program, but it's also exhausting to think of all that must be planned/executed/graded/recorded/performed in the next ten weeks…and then to...
Best tweet ever?
I'm not one to re-blog, or re-tweet, or post other people's stuff on FB…I fail enough just trying to create my own posts. But I read this tweet on dooce.com and HAD to share it somewhere. Hope it makes you giggle outloud like it did me, and I needed it today!  "Spent the last two hours whispering 'Here comes the tickle monster!' to people who were bench...
3 tags
..."You can't stop the beat..."
I'm really emotional today—last night I felt anger well up in me right beside intense pride for the work I did with the Roosevelt kids on their school musical.  Each night of the show I sit down below the stage with the musicians, conducting and listening to the kids onstage speak their same funny lines and sing the same songs.  I beam with pride when they nail it, and my stomach gets...
Watch
Domo Arigato Holly Roboto
Today I'm thankful for a mother who listens and understands me, a grandmother who loves and blesses me unconditionally, a friend who needs me, and a long run by the river in the elusive winter sunshine.
Watch
My charming children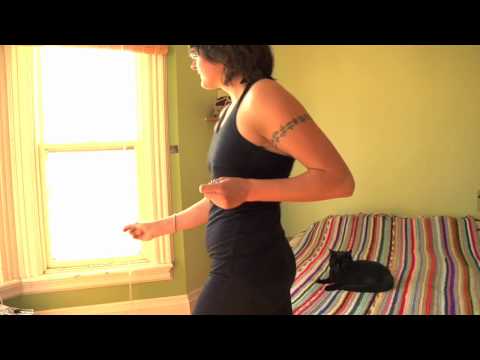 to do: 2012 edition
1. Love my kids, intentionally, attentively, separately, whole-heartedly. 2. Get my desk/paperwork organized.  3. Remove all money tentacles from Bank of America, including mortgage and move to local credit union. 4. Lead the Grant High School Concert Choir to state competition. 5. Lead, listen, and laugh a lot in the classroom. Finish the year with pride. 6. Lose 10 lbs, look amazing in a...
Watch
What you do on December 28 in short sleeves in Texas
I had a long dream a hurricane was coming, was upon us, and I felt the need to color my hair!